Post by marion on Jul 3, 2006 5:42:09 GMT -5
'The Staircase': Money, Sex and Secrets
Convicted Killer's Appeal Decision Expected Soon
By CHRIS CUOMO, EAMON McNIFF, and the ABC NEWS Law and Justice Unit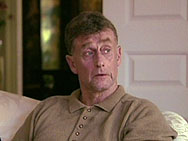 Michael Peterson, a novelist, was
convicted of the murder of his wife,
Kathleen, in 2004. An appeal of his
case is pending. (ABC News)
June 29, 2006 — The final chapter in the long saga of novelist and convicted "staircase" murderer Michael Peterson could be written any day now.
In a story with more bizarre twists and turns than any thriller he could have written, Peterson is waiting to hear if the North Carolina Court of Appeals will overturn his conviction for murdering his wife, Kathleen, in October 2003.
Peterson, a former newspaper columnist, and his wife, Kathleen, a Nortel Networks executive, lived in a sprawling white house in Durham, N.C. By most accounts, it was a storybook second marriage for both.
Michael had four children (two sons and two adopted daughters) from his first marriage; Kathleen had one daughter, Caitlin. According to Peterson, it was one big happy family: "We lived together for 14 years, and we were happy every one of those years."
However, that happy existence was shattered in the morning of Dec. 9, 2001, when a frantic Michael Peterson made a 911 call, claiming to have discovered his wife alive but unconscious at the bottom of a staircase. "My wife had an accident. She's still breathing," Peterson cried.
When authorities arrived on the scene, Peterson said that he and his wife had watched a movie that night, "America's Sweethearts," and then, after having some wine, the couple walked outside to sit by the pool. According to Peterson, Kathleen went inside to go to bed while he remained outside, smoking his pipe.
Sometime later, he said he found his wife, crumpled and bloody and barely breathing at the bottom of the stairs. She died later that morning.
From the beginning Peterson maintained that Kathleen had simply slipped on the stairs in a tragic accident after drinking wine and taking valium. However, according to police who arrived on the scene, the amount of blood spilled across the stairs and on Kathleen immediately raised suspicions of foul play.
"When I first entered the house, I noticed an abundant amount of blood on her, on the floor, on the walls, that just was not consistent with somebody falling down the steps," said Art Holland, lead detective on the case.
An autopsy report showed that Kathleen Peterson had multiple lacerations to her skull. According to Jim Hardin, who was district attorney at the time, "It's impossible for me to believe … that could be caused from a series of missteps or a fall down 15 different stairs. I just can't see that happening. This had to occur from multiple inflictions of blunt force trauma."
Peterson was arrested and charged with murder.
Documenting the Defense
Shortly after Peterson's arrest, a team of Academy Award-winning documentary filmmakers from Paris arrived in Durham. In a collaboration with ABC News, the two French filmmakers, Denis Poncet and Jean-Xavier de Lestrade, began shooting behind the scenes, documenting not only the defense strategy meetings where everything was laid on the table, but also the most intimate moments at home for the Peterson family.
Over the next two years, the filmmakers would shoot 650 hours of footage, ultimately winning a prestigious DuPont and Peabody Award for their coverage of the case. Excerpts from that extraordinary footage will air in tonight's program on ABC.
Revelations of a Secret Life
The police investigation soon revealed what appeared to be cracks in the couple's seemingly perfect marriage. When detectives searched Peterson's computer, they discovered pornographic images of men, including e-mails from Peterson soliciting sex from a male escort. The prosecution suggested that Kathleen discovered his homosexual affairs and confronted Peterson the night she was murdered.
"According to the persons that know [Kathleen] well & she would have been infuriated at learning that her husband, who she truly loved, was bisexual and having an extramarital relationship not with another woman but even with a man, which would be humiliating and embarrassing to her, said Freda Black, then the assistant district attorney. "We believe that once she learned this information, that an argument ensued and a homicide occurred."
A Family Torn Apart
Peterson's five-month murder trial captured the headlines with sensational stories about Peterson's secret double life. But behind the scenes, his own family split over his guilt or innocence.
After reviewing the autopsy report, Kathleen Peterson's daughter, Caitlin, became convinced her mother had not slipped on the stairs. "My conclusion, which I stand by 100 percent, was that Michael murdered my mother," Caitlin told "Primetime."
Caitlin's public denouncements of Peterson created a deep rift with stepsisters Margaret and Martha, who steadfastly supported Peterson. .
"I did consider Martha, Margaret my sisters and, you know, my mother considered them her daughters. But my goal, my strength in life is completely opposite," said Caitlin. "It's in seeking justice for my mother; that's what I'm here for."
Mystery Deepens
But just as the trial was about to begin, there was another startling revelation.
Nearly two decades before Michael Peterson found his wife at the bottom of a staircase, a close friend of his in Germany, Elizabeth Ratliff, had also died after a fall down a staircase. Peterson was reportedly the last person to see her alive.
Authorities in Germany had determined that Ratliff's death was the result of a fatal stroke that sent her toppling down the stairs. And no questions were raised when her close friend Michael Peterson adopted her daughters, Margaret and Martha.
But with Kathleen Peterson's death at the bottom of the stairs, authorities began to wonder: Was this a tragic coincidence or a pattern? To find out, the prosecution exhumed Ratliffe's body. A new autopsy concluded that Ratliff had also been the victim of a homicidal assault.
"The DA is trying to say basically that our dad killed our birth mother and our mother," said Margaret Ratliffe. "But where are we sitting? We're sitting behind our dad."
"I think Liz died a perfectly natural death," said Michael Peterson. " I don't think anybody did it. But if somebody did do it, well it sure as hell wasn't me."
But Caitlin, Kathleen's daughter, told ABC News, "When I found out the evidence of Elizabeth Ratliff's death and that it was very similar to my mother's death, there was a possibility that I had been living with a man for 13 years who had possibly committed murder 18 years ago and all this time, he was, there was this big secret, something that I didn't know about him and that's very scary."
On Oct. 10, 2003, the jury found Peterson guilty of first-degree murder. He was sentenced to life in prison without the benefit of parole.
Shortly after the trial, Peterson continued to maintain his innocence, but he also told "Primetime" that he was not interested in an appeal.
"I didn't do anything. I'm innocent. I did not believe until the jury clerk read the sentence that I would be convicted," Peterson said.
"My immediate reaction was let's end it, and I told David that I didn't want an appeal. I wanted to just end it right now, forget it, enough was enough," he said, referring to his lawyer, David Rudolf.
But an appeal was filed in 2004, based on the defense's belief that Peterson was denied a fair trial. His defense claimed that the e-mails and testimony about Peterson's bisexuality, as well as evidence about the death of Elizabeth Ratliff years earlier, were irrelevant and prejudicial. But the prosecution contended that two women dead at the bottom of the stairs was no coincidence. Lightning, they said, does not strike twice.
The appeals court decision is expected any day. And as for Kathleen's daughter, she has successfully sued her stepfather for her mother's wrongful death. The damages portion of the trial has been postponed following Peterson's filing for bankruptcy.